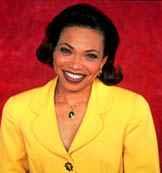 Martin's more level-headed, longsuffering better half, girlfriend and later his wife. Gina works for a public-relations firm. Campbell left the series in the middle of Season Five after she and Martin Lawrence began feuding. She later returns for the series finale, although she doesn't appear in any scenes with Lawrence.
Background
Edit
Gina was raised in Philadelphia by Dr. Cliff Waters and Nadine Waters.She had a boyfriend named Derrick who Martin is extremely jealous of In "Ex Files." She has a best friend named Pamela James who has a ongoing feud with her boyfriend Martin.
Ad blocker interference detected!
Wikia is a free-to-use site that makes money from advertising. We have a modified experience for viewers using ad blockers

Wikia is not accessible if you've made further modifications. Remove the custom ad blocker rule(s) and the page will load as expected.